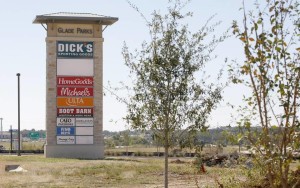 The link below is from the Star Telegram with an update on Glade Parks.

http://www.star-telegram.com/news/local/community/hurst-euless-bedford_news/article115825233.html
Dog lovers, you won't have to leave your favorite pooch at home when you're heading out for dinner, as the long-awaited Lazy Dog Restaurant & Bar is opening in the bustling Glade Parks development, located on the west side of the Texas 121 corridor between Cheek-Sparger and Glade roads.
There is plenty of room for dogs and their human companions to hang out on the 1,400-square-foot patio, designed especially for dogs. Lazy Dog is scheduled to open Jan. 8.
The good news continues for Glade Parks as construction will start soon on an Aloft Hotel that will have 140 rooms along with a bar and restaurant, said Mike Collins, the city's planning and economic development director. The hotel will be located near the public plaza and lifestyle area. Aloft Hotels, located throughout the world, are part of Marriott Corp. and promise travelers a modern, urban design with a hip, social experience according to the company website. And an Outback Steakhouse also announced plans to open in Glade Parks.
"I think that the master developer working with its commercial broker has done an excellent job," Colins said of the ongoing work to bring in more restaurants and stores.
The luxury 12-screen Cineappolis movie theater is scheduled to open in the summer and work is also underway on the 24-hour Fitness, he said.
Glade Parks is anchored by a Belk department store along with Dave & Buster's and Dick's Sporting Goods. Besides lots of restaurants and shopping, Glade Parks also offers urban lofts for young professionals and single-family homes.