Hurst, Euless, Bedford, Richland Hills, Fort Worth, and Haltom City – Quick Sale – Cash for your home. 
Need your home sold quick, call  817-703-1165.  I am only able to buy a few at a time but if I have a spot available then I usually can pay more than anyone else.  My main business is selling your house for top dollar but I also purchase homes when people need a quick sale and/or do not have the time or resources to do needed repairs.  Before selling to one of the large home buyers give me a call and see if I have a spot available and I typically can offer more.  Often times $5000 more.  Before you sign, call Scott and see how much more money can be received.
I like to buy homes in Bedford, Euless, Hurst, Haltom City, and Richland Hills.  However, I have bought homes in all parts of town.   I have closed a home on the same day as I have contracted. Closed several homes within a couple days. I can work with your schedule and situations.  Many people have left everything and others needed time to go through the property.  I am happy to work with you.
Need to sell and have a leaseback to buy a new property, give me a call.  I have helped people in all kinds of situations.
If you want even more for the property and have about 40 days to close, let me help you get the top dollar by Marketing your house on the market.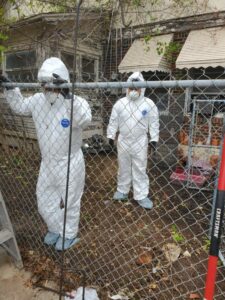 Work crew cleaning out a house.